I figured I couldn't just teach you how to make oat milk and not show you what you can do with it! There are so many ways to use oat milk but one of my favorites is in an oat milk latte, which is as simple as it sounds: a latte made with oat milk.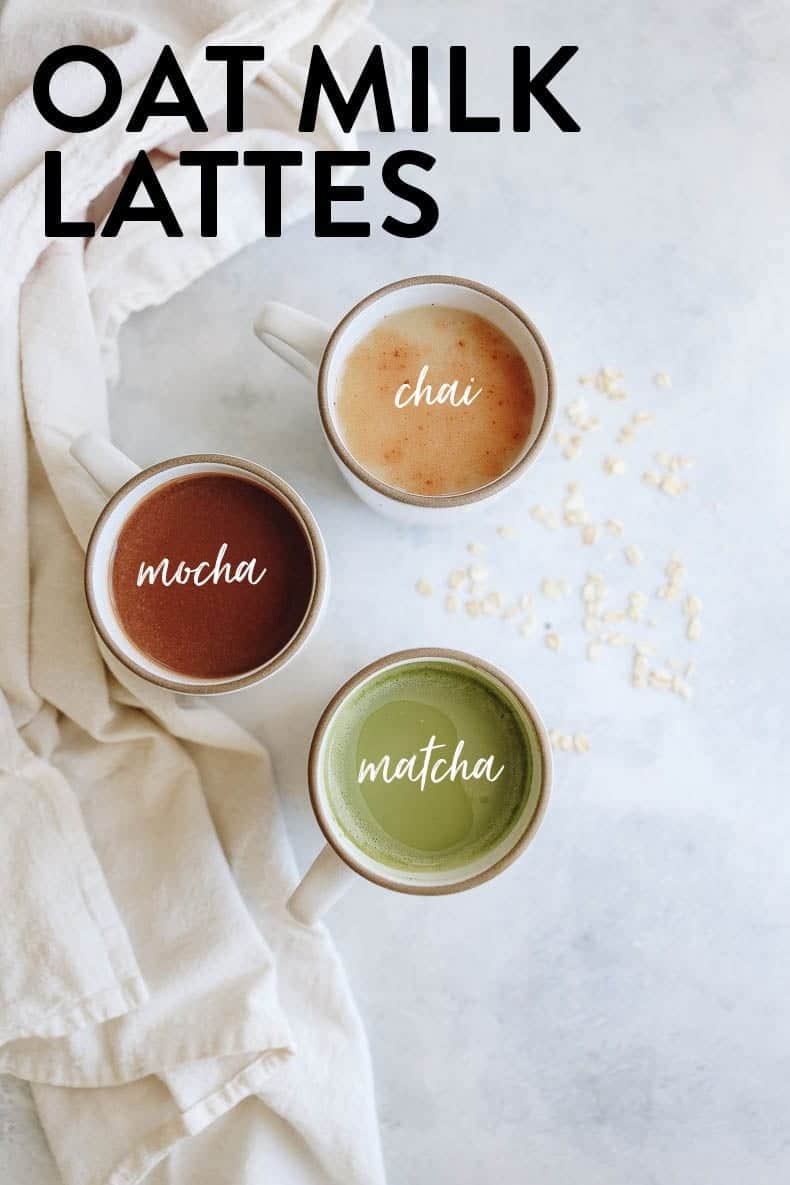 Of course we couldn't be THAT basic so instead of your typical oatmilk latte, we're showing you how to make them 3 ways! Including this matcha oat latte, mocha latte and chai latte.
If you want to learn more about oat milk and how to make it, check out this post. But now that you've got the recipe down, let's chat about a few key points when it comes to making these lattes..
Matcha Oat Milk Latte
For the matcha lover in all of us, this latte gives the caffeine boost and earthy flavors of matcha mixed with the sweetness of oat milk. It's creamy and delicious and trust me, once you go oat milk + matcha, you never go back!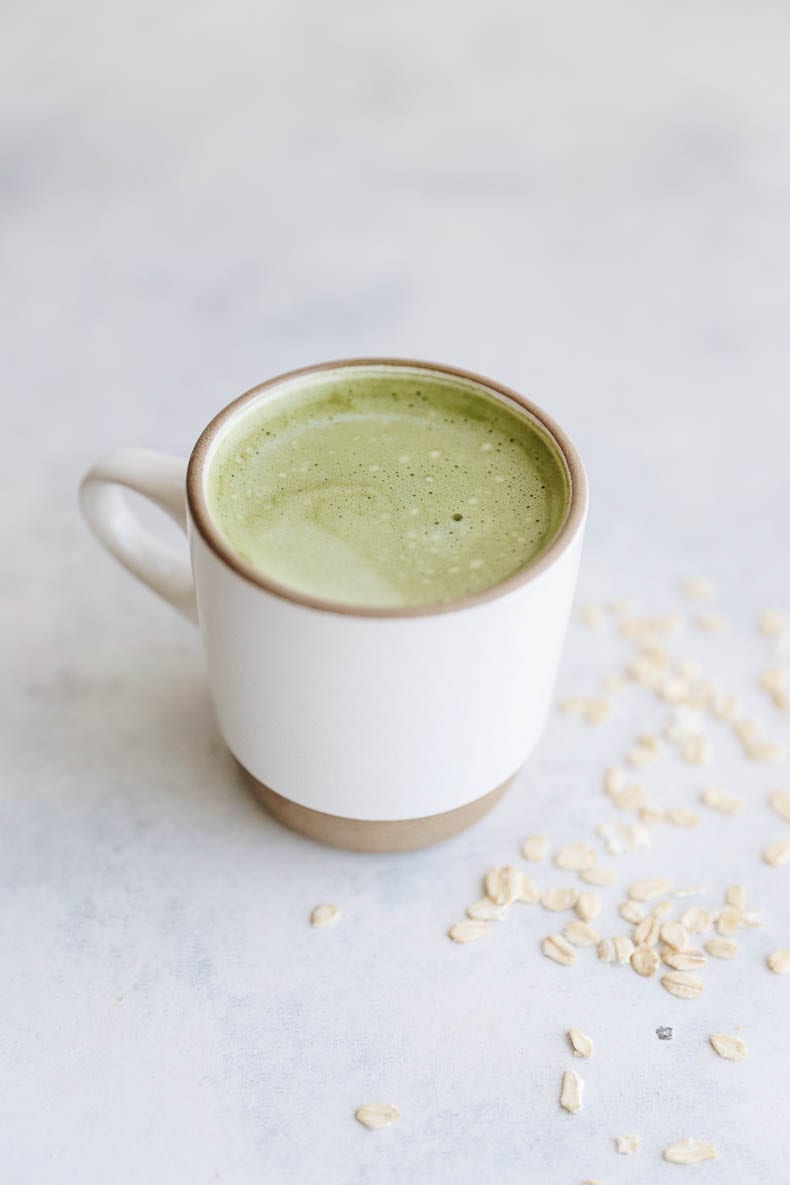 Mocha Oat Milk Latte
To be honest, I'm perfectly happy adding some oat milk to straight up coffee (or espresso) but we figured we'd kick things up a notch with some chocolate. Pro tip for all lattes: add some coconut butter to make it extra creamy!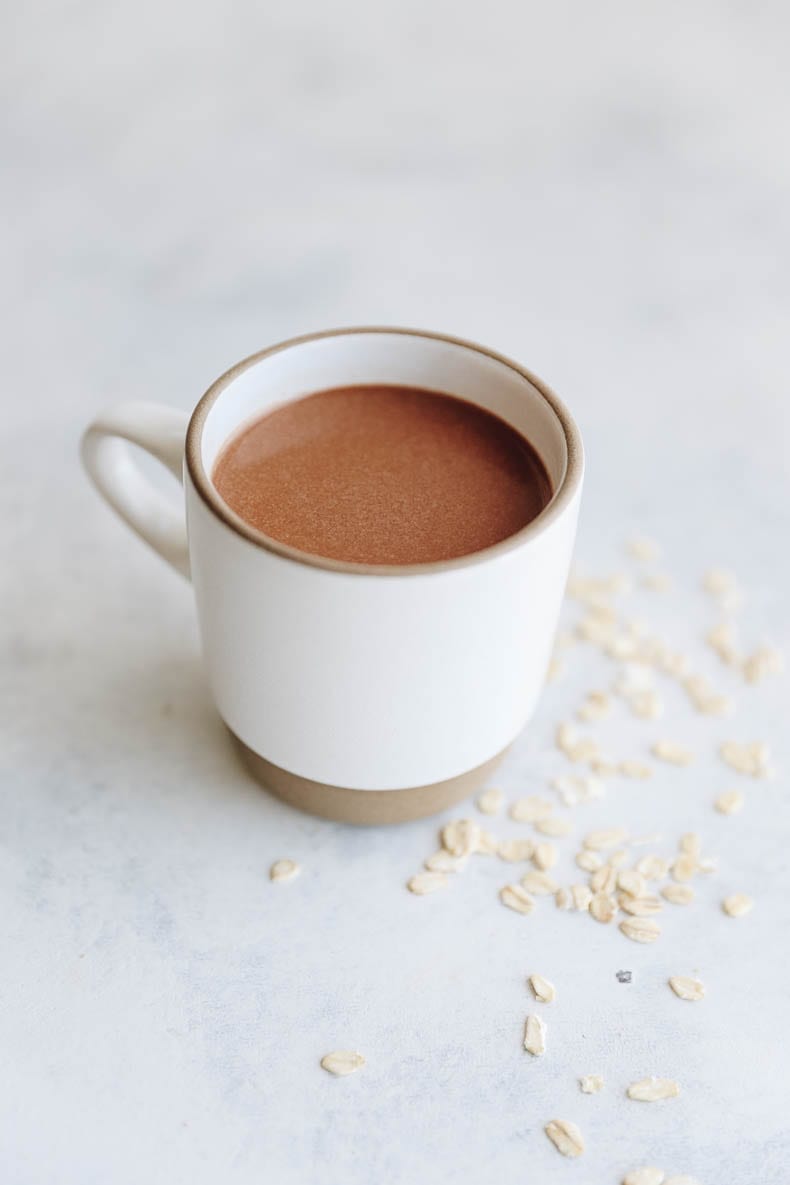 Chai Oat Milk Latte
There were a million and one options for flavors to choose from, but Jess and I wanted to give an ode to one of our favorite tea companies: Yerba Buena Tea Co. One of our highlights is their delicious chai. I truly believe it is the best one on the market. Also if you're looking to get extra creative with your oat milk latte order some of the Maven Tea Blend I created with them!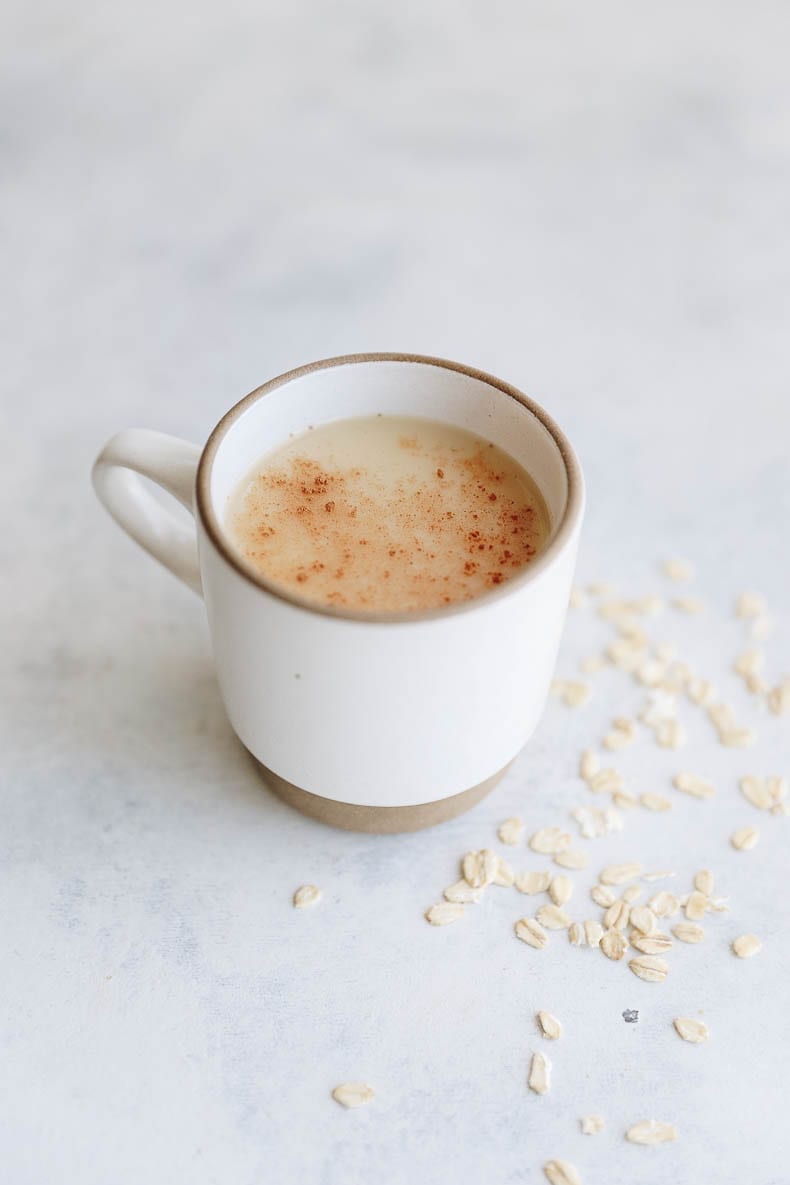 I encourage you to experiment with different flavors and see which ones you like. Oat milk + coconut butter makes for an epically creamy combo so truthfully, beyond these two things it doesn't matter a whole lot which flavors you add. But whatever you choose, let me know by using the hashtag #thehealthymaven or tag @thehealthymaven on Instagram. Can't wait to see what kind of lattes you're drinking and where you're sipping them!
How To Make Oat Milk Lattes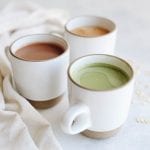 Author:
Prep Time:

1 minute

Total Time:

5 minutes

Yield:

1 serving
Ingredients
Matcha Oat Milk Latte:
Mocha Oat Milk Latte
Chai Oat Milk Latte
2/3-1 cup oat milk

1/3 cup boiling water

2 tsp of your favorite loose leaf chai or 1 teabag

1-2 tsp sweetener of choice (maple syrup, honey etc…)

optional: a shot of espresso to make it a dirty chai
Instructions
Matcha Oat Milk Latte
Blend the boiling water, matcha, coconut butter and sweetener if using together in a blender or using either a hand whisk or electronic frothing wand.

Heat oat milk for 3-4 minutes over medium-low

If desired, froth the milk using an electronic frothing wand and pour it over the matcha mixture.
Mocha Oat Milk Latte
Place all the ingredients (except espresso) into a small saucepan/pot and heat over medium low heat for 3-4 minutes, making sure not to overheat.

If desired, use a hand whisk or electronic frothing wand to froth mixture.

Add espresso to mug (if using) and pour oat milk mixture over top.
Chai Oat Milk Latte
Steep the chai in a mug with the boiling water for about 7 mins or until it is deeply brewed and concentrated. Remove tea bag or tea leaves.

Meanwhile, heat the oat milk over medium-low for 3-4 minutes, stirring in the sweetener.

If desired, use a hand whisk or electronic frothing wand to froth mixture.

Once the chai is brewed, pour the milk into your mug. 

Add shot of espresso if using.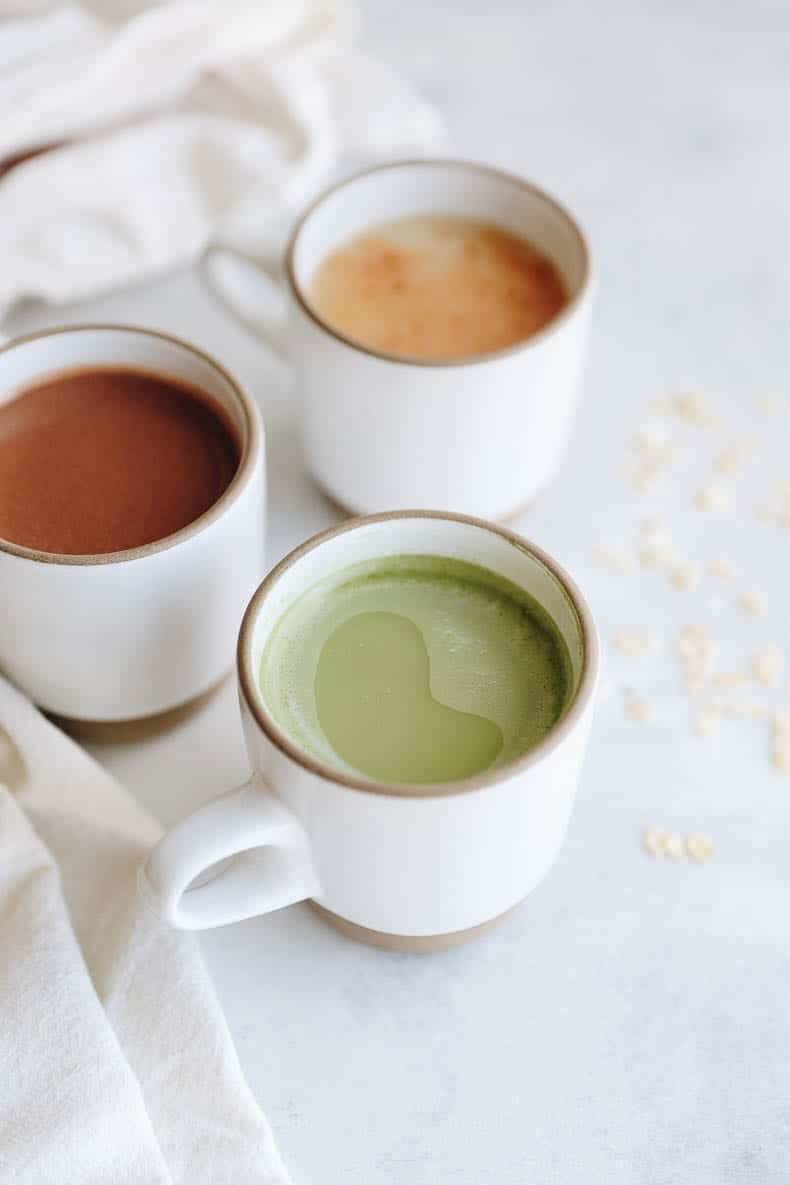 JOIN THE THM NEWSLETTER
Join 8000+ members of the THM Community to get access to exclusive recipes, healthy lifestyle tips and behind-the-scenes news from our team!
Source: http://feedproxy.google.com/~r/TheHealthyMaven/~3/ly8TwMttvDc/